Laser Driver (3 section): DC450M
HIGH current at HIGH Data rates into HIGH power laser diodes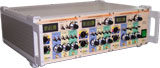 The first High Speed Driver for High Power Lasers that combines up to 1500mA at a data rate up to 450Mbit/s.
Ideal solution for 3-section laser diodes.
---
The driver system consists of a Controller Unit and an optical bench mountable PCB to connect to the Interface board. The controller device has three independent channels to connect data to the laser under test. Each channel can be switched to normal operation, OFF state or to permanent logic high level. The contribution of each channel can be continuously adjusted up to the max. current level. A seperate Bias can be offset to the data signal. Bias as well as the data signals are mixed together and brought to the Laser under test.
---
New generation of Laser Drivers
Accepts 3 independent Data Channels
Additional Independent Bias
Easy operation
Up to 1500mA Laser current under modulation
Monitor output for combined laser signal
Data Rate DC to 450 Mbit/s continuously
Multiple optical logical data level
Ideal for 3-Section laser diodes